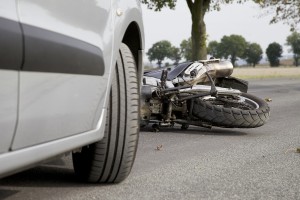 Motorcycles are enjoyed by millions of people on a daily basis. If not operated properly, motorcycles can be one of the most deadliest vehicles on the road. Unlike cars and trucks, a motorcycle offers little exterior protection from an oncoming vehicle. For this, and many other reasons, it is imperative that motorcyclists observe the utmost caution when driving.
According to the U.S. Department of Transportation, motorcyclists are 35 times more likely to get into an accident than any other vehicle on the road. Most often, motorcycle accidents occur when:
A driver makes a left-hand turn without looking, or fails to judge your speed and makes the turn, colliding with a motorcycle.
Motorcyclists are riding in a vehicles blind spot, leaving them unseen and at risk of collision.
Driving conditions are dangerous, such as slick roads cause motorcycle tires to wipeout.
Excessive speeding, which can cause a motorcycle to wipeout, and also leave less time to react to oncoming vehicles or obstacles in the road.
Motorcyclists attempt to operate a vehicle after the consumption of alcohol.
Accidents can result in a number of serious injuries, such as spinal cord injury, neck or back injury, traumatic brain injury, fractures, road rash, and even paralysis. When the proper safety precautions are taken, motorcycle accidents can be avoided. In order to reduce the risk of a serious crash, motorcyclists should:
Educate themselves. New riders should take basic rider courses to learn how to properly operate vehicles and the laws of the road.
Invest in safety gear. Wearing the right gear, such as helmets and padded jackets, can make all the difference between life and death to a motorcyclist. Gear should be reflective if riders are driving at night.
Obey the law. While motorcyclists must obey the laws of the road, a set of unique laws govern motorcycle riding. These laws vary by state, so it is important for motorcyclists to adhere to the laws that apply in the area(s) they are riding.
Always be prepared. When operating a motorcycle, drivers should be aware of their surroundings, including road conditions, other vehicles, and pedestrians, at all times.
If you are involved in a motorcycle accident, you should determine who was at fault, get the proper information from the other driver, obtain proof of any injuries that occurred and check your insurance policy. If serious injury or death occurs, contact a lawyer right away to start forming your case.
If you or someone you know has been injured in a motorcycle accident or even a moped accident, contact the accident attorneys at The Law Offices of Glen S. Barry, P.C. to schedule a free motorcycle injury consultation.